BANNER- Banner Home Biblioteca
BIBLIOTECA BANCO CENTRAL DE CHILE

Bases de Datos
Bases de datos especializadas en economía y finanzas.

Revistas en Línea
Revistas en línea especializadas en economía y finanzas. Incluye accesos a revistas c...

Libros en Línea
Incluye 15.000 títulos texto completo y el acceso a una selección de bases de datos c...

Repositorio Digital
Incluye más de 6.900 publicaciones institucionales del Banco Central, entre ellos la ...
HOME -Colecciones Patrimoniales
COLECCIONES PATRIMONIALES
NOTICIAS DE LA BIBLIOTECA

Principales Journals texto com...
25/04/2023
La Base de Datos EconLit cuenta con una gran cantidad de revistas altamente destacadas en materia económica, aquí vas a encontrar una selección de journals disponi...

Reporte OECD Economic Surveys:...
25/04/2023
La biblioteca del Banco Central, como parte de las suscripciones que mantiene con variados organismos internacionales, recibió recientemente el reporte Economic Su...

EconLit with Full Text: La pri...
24/04/2023
Una de las principales Bases de Datos que suscribe la Biblioteca del Banco Central es EconLit™ with Full Text, la cual es reconocida como el recurso más importante...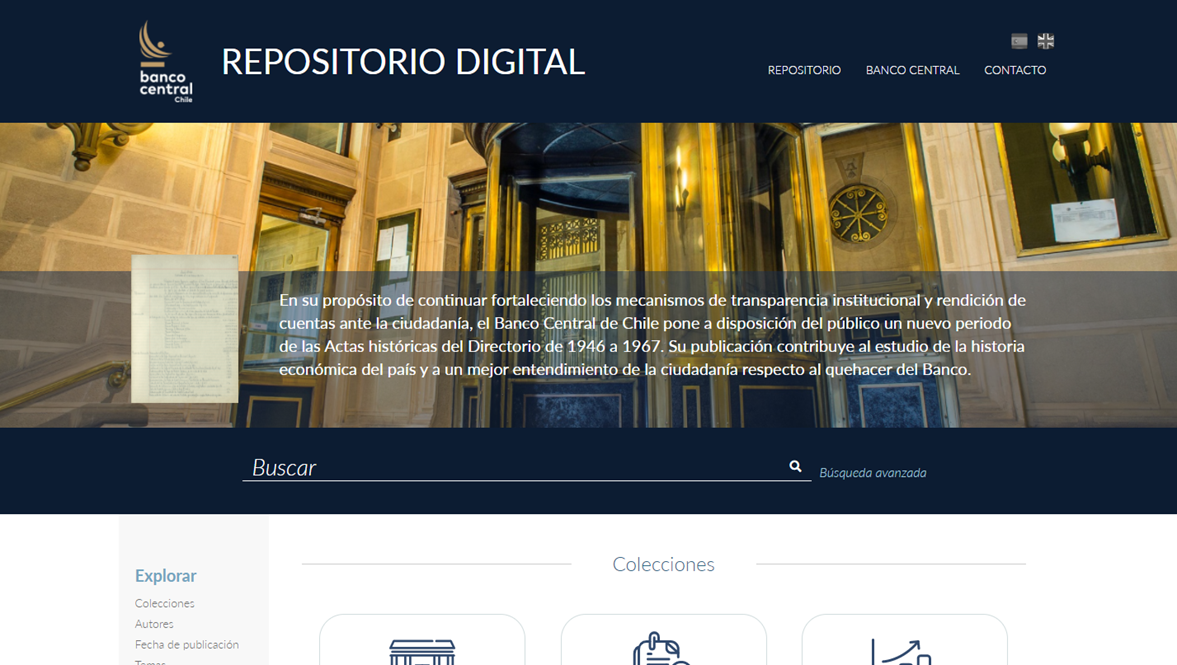 Banco Central de Chile publica...
30/12/2022
El Consejo del Banco Central de Chile de acuerdo con la Política de difusión voluntaria de las Actas de las sesiones del ex Directorio, del ex Comité Ejecutivo y d...

Lanzamiento volumen 28, Serie ...
20/10/2021
Presidente Mario Marcel presentó el libro "Independence, Credibility, and Communication of Central Banking", volumen 28 de la Serie Banca Central, Análisis y Polít...

Banco Central dispondrá tour v...
27/05/2021
En el marco del Día del Patrimonio, y por primera vez en sus 96 años de historia, el edificio institucional del Banco Central de Chile se podrá recorrer a través d...